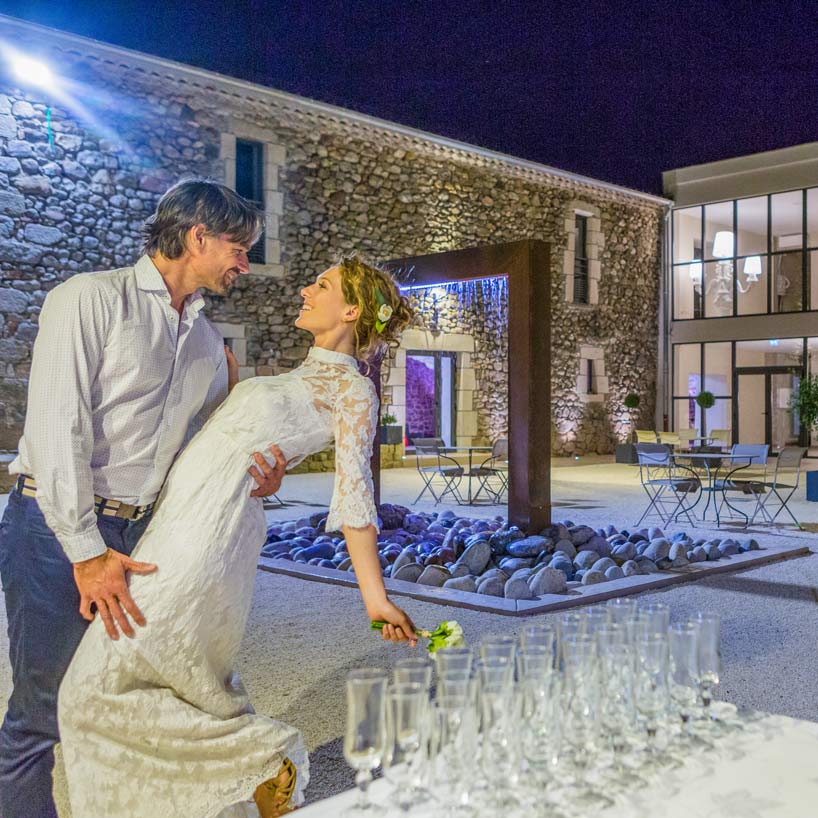 In Ardèche, an authentic place between tradition and modernity
A privileged location in the Ardèche for fabulous weddings and events
You can rent a wedding hall in a place full of authenticity and character in a green setting!
More globally, each large reception room is ideal for the organisation of all your family and private events (weddings, christenings, parties, vin d'honneur, birthdays) or professional events (meals, seminars, business dinners, …).
A few kilometres from Aubenas and the famous Ardèche gorges, discover an enchanting riverside landscape in the heart of nature. Thanks to our 4 rooms for weddings or receptions and our outdoor space, we guarantee you exceptional moments in an exceptional and friendly setting.

Among the wedding hall rentals in Les Ranchisses, you can rent a hall with a maximum capacity of 300 seated guests, the smallest of which can accommodate 80 guests.
Less than 3 hours from Lyon, Grenoble and Marseille, bring your family, friends and colleagues together for a dream moment. All our spaces have been designed to ensure your comfort and privacy.
A team of professionals available and attentive to your needs, will accompany you throughout the organisation of your festivities and events, such as the decoration of the wedding hall and garden, the layout of the tables, the choice of caterer, or any event taking place between the wedding ceremony and the wedding reception. Don't hesitate to come and visit the domain, its rooms, its atmosphere… and fall under the charm of the place!
Nearby you will also find our restaurant in the Ardèche and our 3 gîtes in the Ardèche if you want a gîte or accommodation near the dance floor.
To accommodate a larger number of people for a wedding or other function, our 5-star Ardèche camping is also nearby.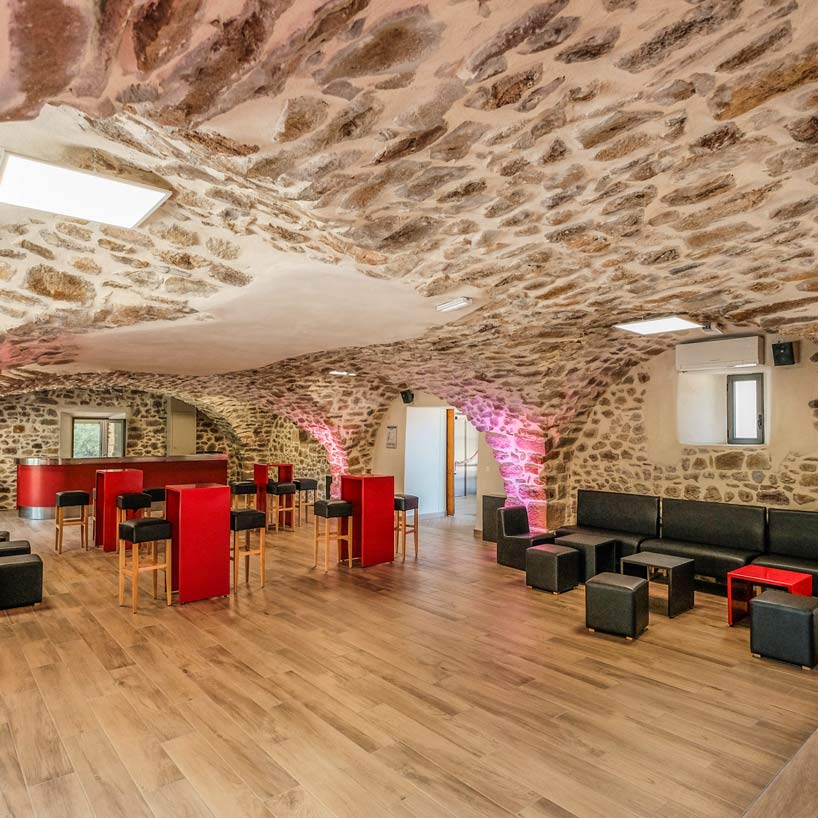 Exceptional reception rooms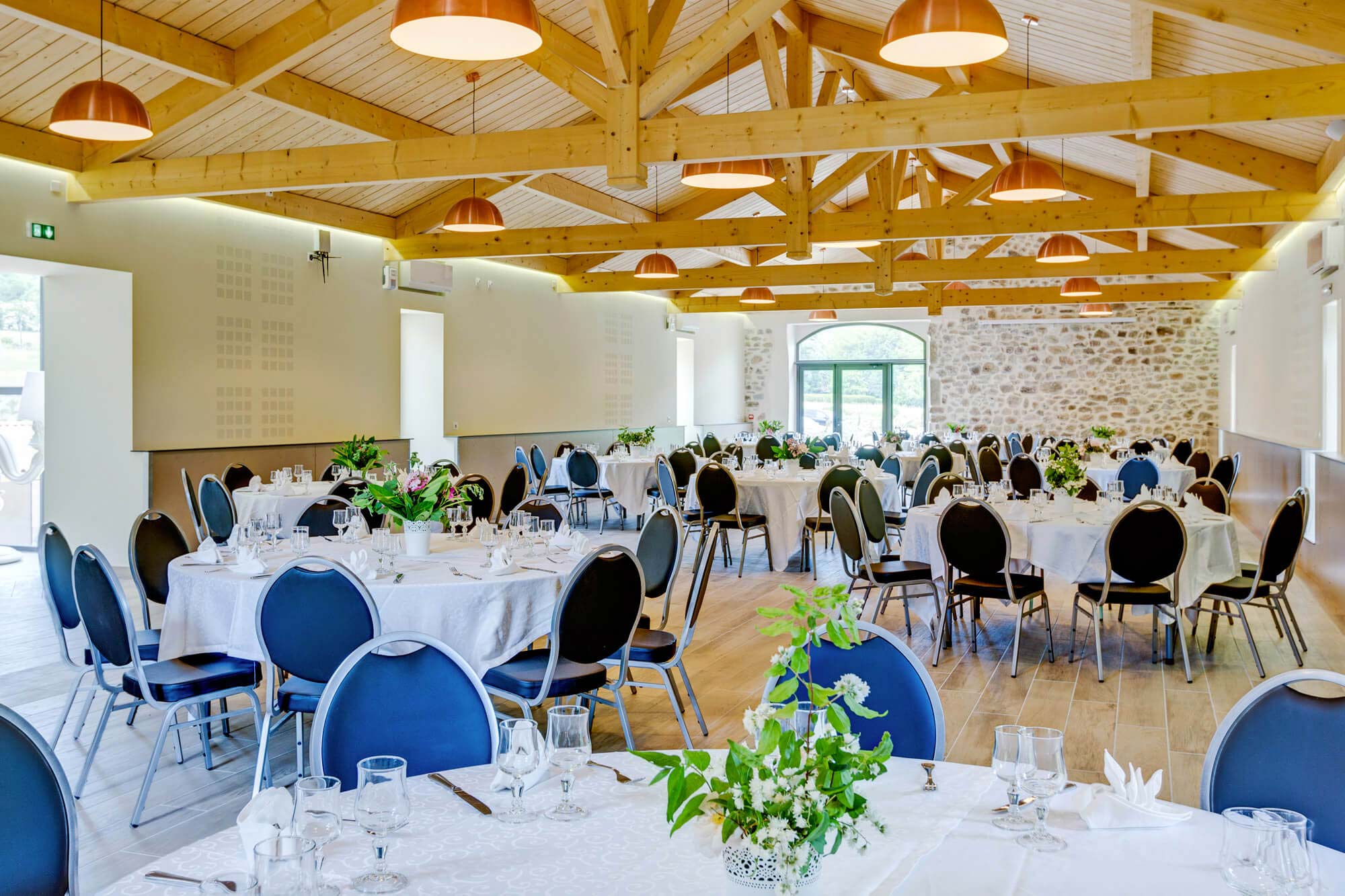 r
La Grange
Rental of a reception room with a beautiful volume underlined by a majestic framework. A divine blend of modern and ancient, this is where your wedding ceremony or group event will be sublimated.
Book
300
Standing room for cocktails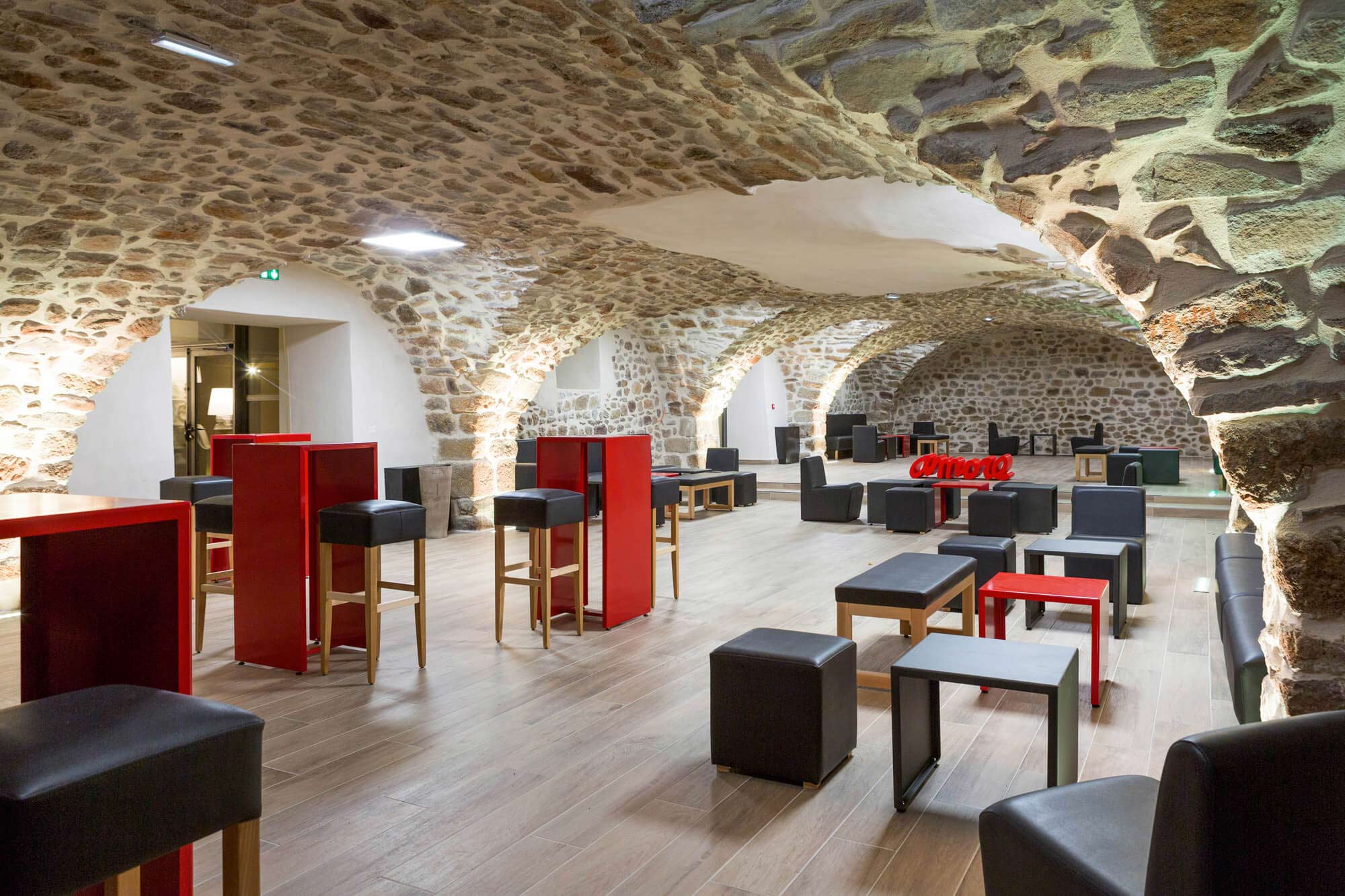 L'Atelier
Punctuated by 5 successive stone arches, this wedding or reception room will give a very special intimacy to your events. Combining modernity and the charm of the past, this reception space for weddings, meals, parties or any other event will meet your expectations!
Book
200
Standing room for cocktails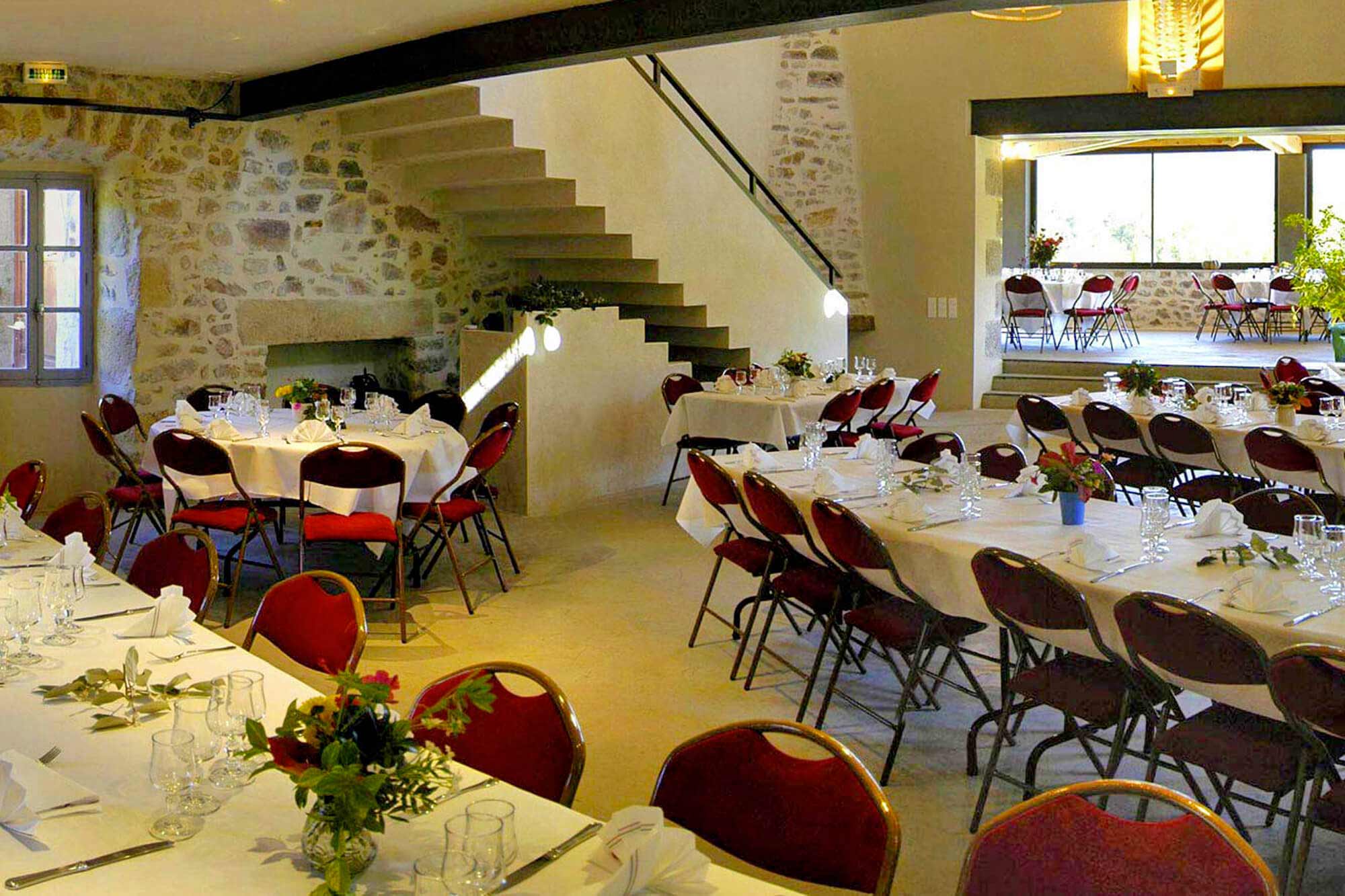 La Magnanerie
Entirely restored, this vast stone space offers you a moment of purity and elegance ideal for a professional meal supervised by a caterer or a chic country wedding. The room hire includes access upstairs to a quieter area, away from the hustle and bustle, which will be taken over by the children.
Book
100
Standing room for cocktails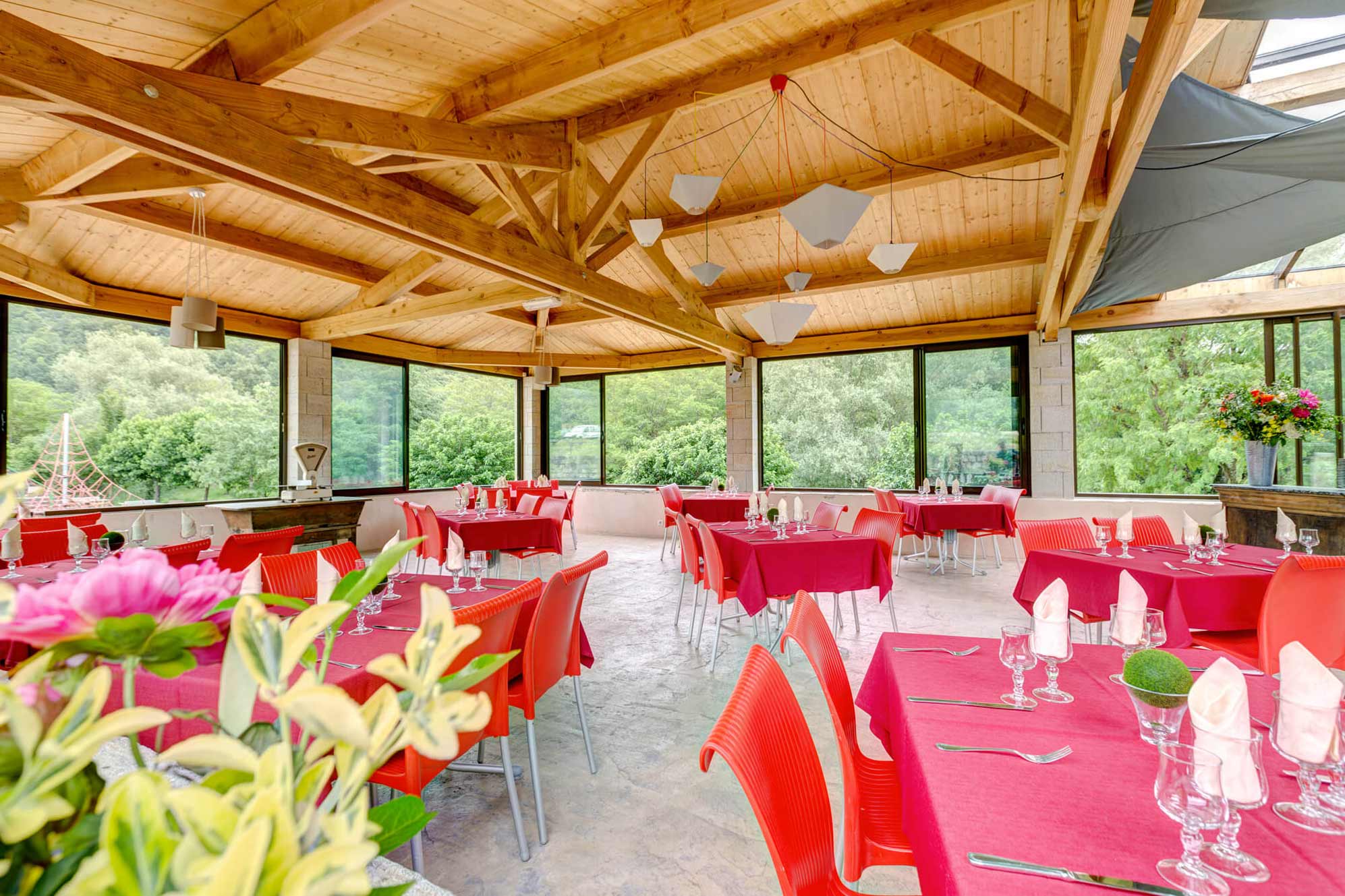 The Orangeraie
The inside-outside room is lit by huge bay windows overlooking the green garden and the charming little river that runs through the estate. For weddings in a green setting. Here, the decoration of the room is almost limitless thanks to a combination of wood, white and stone.
Book
80
Standing room for cocktails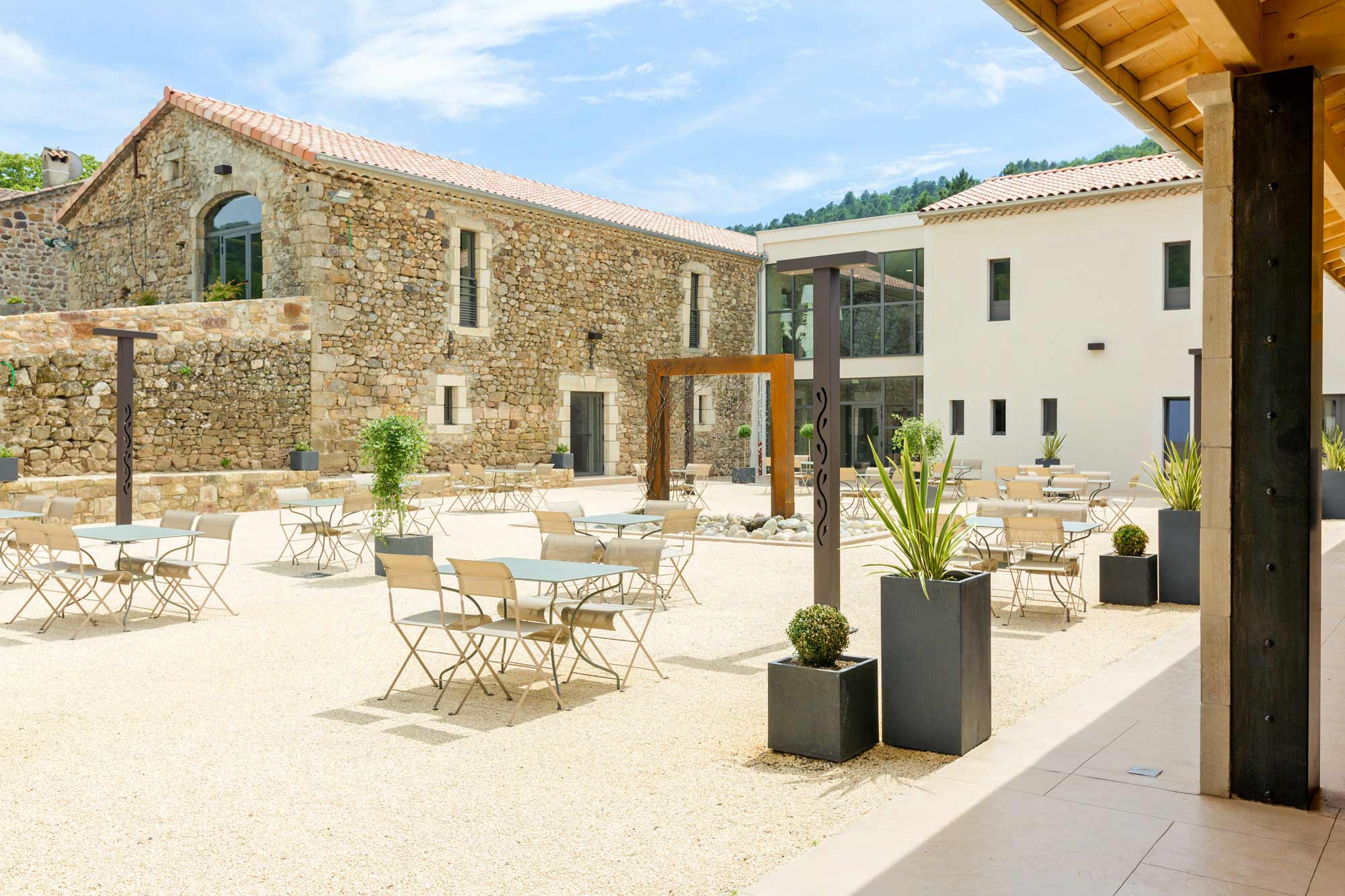 La Cour Diamant
Our room rental offer ends with the 725m² outdoor space of the Cour Diamant at Domaine Les Ranchisses, the ideal setting for your guests to gather for brunches and aperitifs. Surrounded by stone buildings with authentic charm, you can take shelter from the sun or the rain in a charming courtyard. With this room rental wedding or reception will be a guaranteed success.
Book
350
Standing room for cocktails
The guarantee of a service
5 stars in Ardèche

A parking with
200 spots
Services
made to measure

In the heart of it all
of nature

Comfortable rental
on site

A playful space
for children

A kitchen
professional