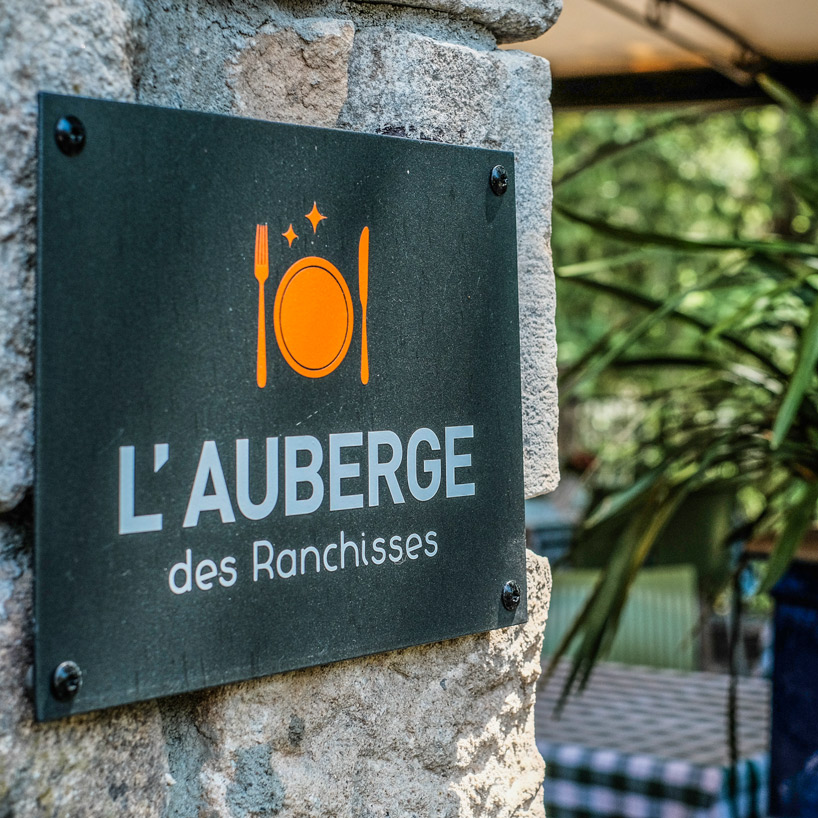 RESTAURANT IN ARDÈCHE
Welcome to the Auberge des Ranchisses, one of the best restaurants in the Ardèche!
Ideally located at the gateway to the Monts d'Ardèche, near Villeneuve de Berg, Vallon Pont d'Arc, Alba la Romaine and Vals les Bains, the Les Ranchisses restaurant in the Ardèche welcomes you in a friendly atmosphere and offers you its traditional dishes based on local products and its great Rhône Valley wines.
Véronique and Philippe invite you to come and discover and appreciate the cuisine of the Auberge in the exceptional natural setting of the 5-star Ardèche camping Les Ranchisses.
Our restaurant in Largentière offers you quality, gourmet and Ardèche cuisine. A cuisine where the leader and his teams harmoniously combine tradition and modernity by using local products for the greatest pleasure of your taste buds. You can also visit La Brasérade, our grill table concept where you are the leader!
For even more choice, our restaurant in the Ardèche also offers a range of wood-fired pizzas and a takeaway menu.
Enjoy an angelic and enchanting setting inside a large, fully renovated 19th century building, south of Valence and Tournon sur Rhône, not far from Bourg Saint Andéol. Near the restaurant, you can stay in a cottage in the Ardèche or even rent a wedding hall!
Our restaurant awaits you for a convivial lunch or dinner on reservation, come and taste a traditional cuisine based on fresh products!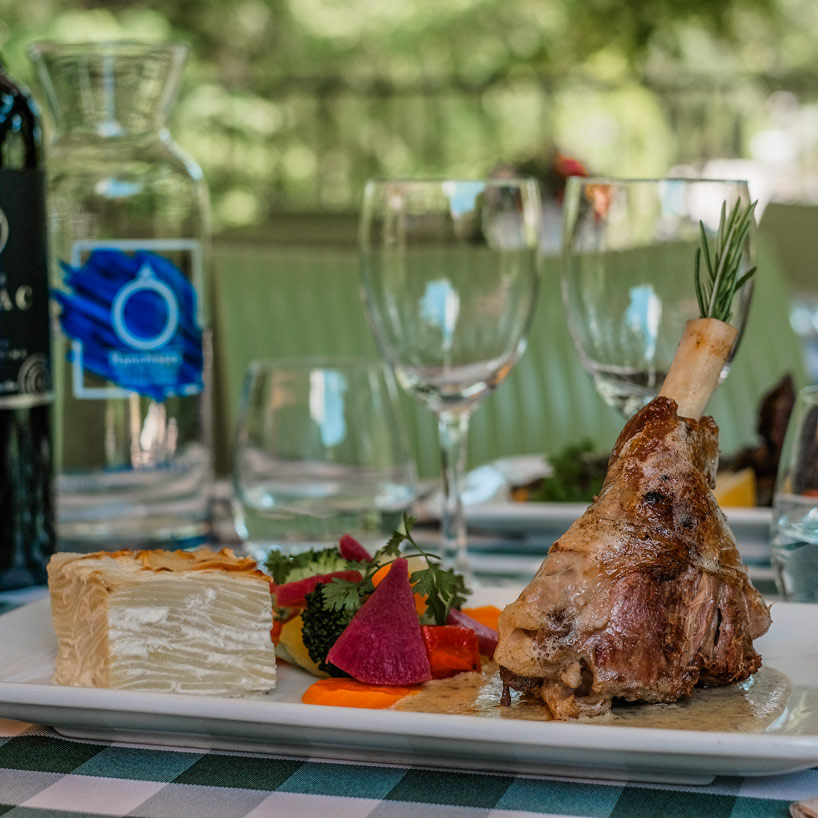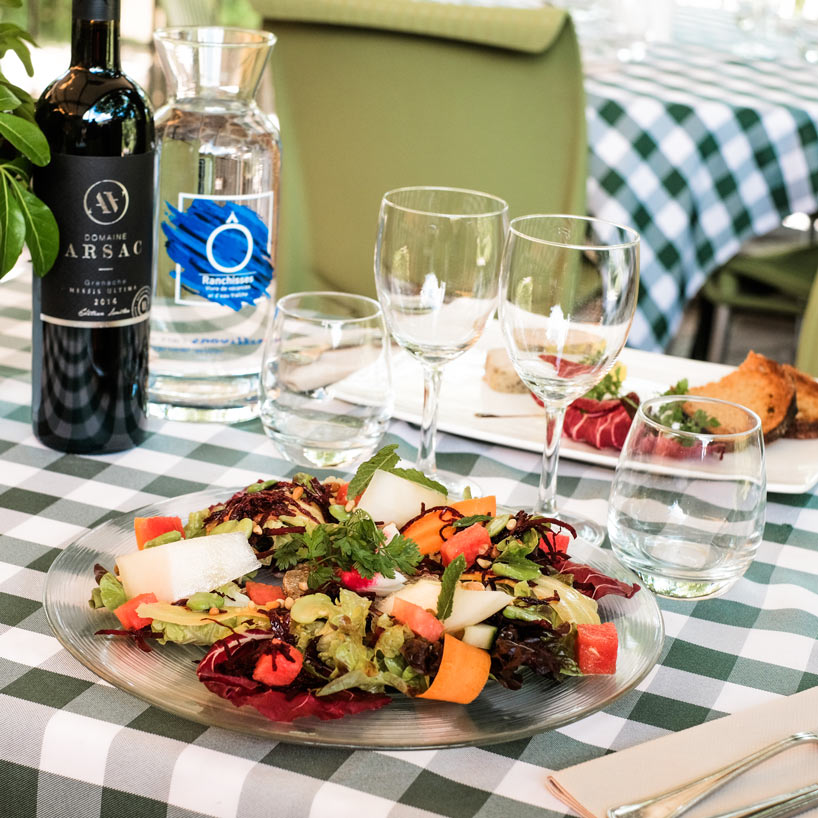 The restaurant
Such refined local cuisine
Welcome to the Auberge! The restaurant of the Domaine Les Ranchisses welcomes you in an old Magnanery dating from 1824 with its air-conditioned vaulted room in exposed stone and its atypical decoration.
The gourmet in you will be won over by our Ardèche specialities cooked with seasonal products from our precious region.
On the menu: duck breast with 4 spices, pork filet mignon with forestry sauce, trout with almonds… The icing on the cake is that all our desserts are homemade, so treat yourself! Every lunchtime, we offer gourmet breaks as well as menus adapted for children.
For a real holiday away from the stove, our takeaway service is sure to meet your expectations!
You are the leader
In a second restaurant area, unique among restaurants in the Ardèche, discover a convivial formula to share with family or friends: at La Brasérade, you are in charge of your meal!
Discover a convivial formula that will delight young and old alike: in the middle of your table, cook yourself on a grill different choices of meat (chicken, beef, pork, …), season to your liking with pepper or Provencal herbs, and enjoy your grilled meat accompanied by tasty chips.
The Brasérade formula includes a starter at our salad bar and a homemade dessert of the day or an ice cream.
We bet you'll want more?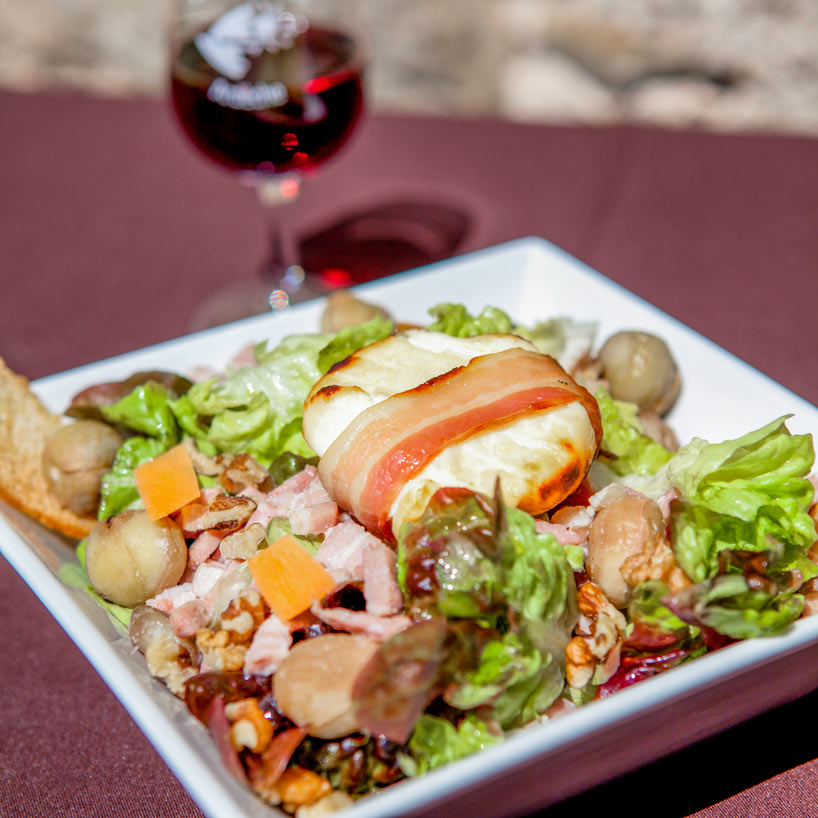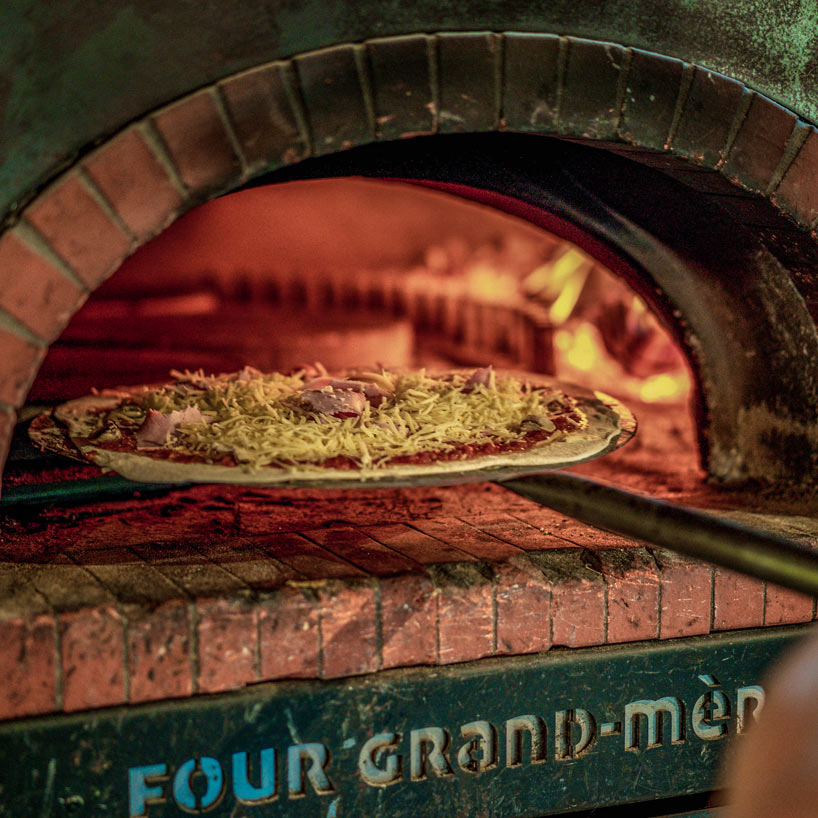 Pizzas made in Ardeche
If during your stay at Domaine Les Ranchisses you don't feel like cooking, opt for our generous wood-fired pizzas* and fill up on delicacies!
Trust our pizzaiolo for his unique mix of flavours and the secret of his pizza dough that is both crispy and soft: salmon, cheese, anchovies, cured ham, turkey fillet, pineapple, parsley… There really is something for everyone in your Largentière restaurant. On the spot or to go, the choice is yours.
* only in the evening
Great wines and a selection of Ardèche wines
As the Provençal proverb says, "a day without wine is a day without sun". You know what you have to do: sit comfortably on the terrace of our restaurant La Brasérade, facing the river, lulled by the song of the cicadas and enjoy a tasty glass of wine to accompany your meal.
We have selected for you various wines from the region and the Rhône Valley. From Tournon sur Rhône to Bourg Saint Andéol, via Villeneuve de Berg, Val les Bains, Vallon Pont d'Arc or Villeneuve de Berg, do not hesitate to ask us for oenological advice to match your dishes, cheeses or desserts.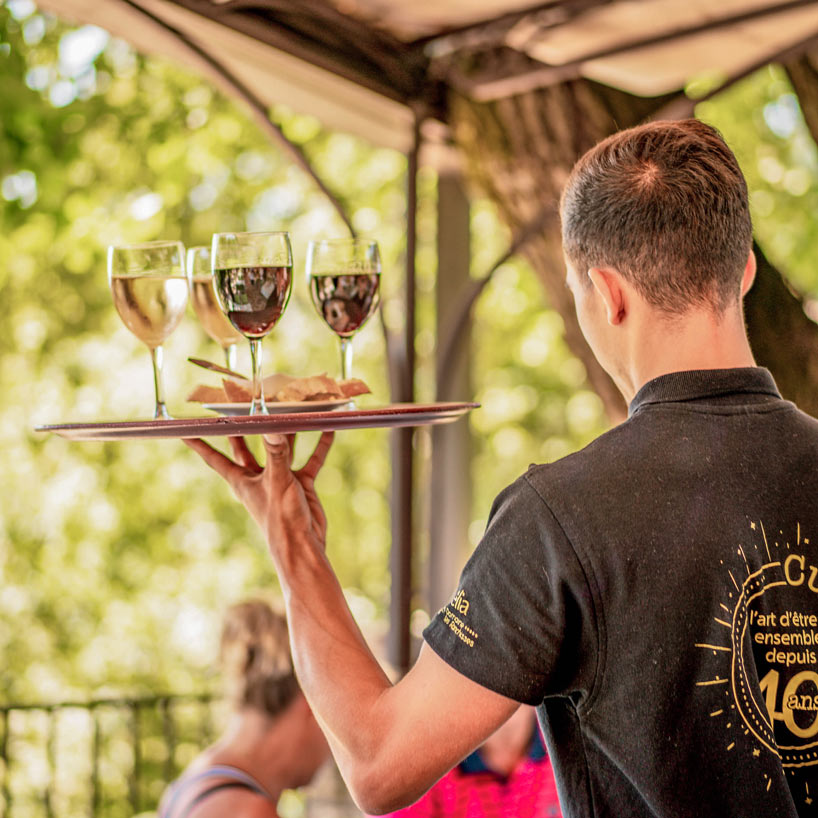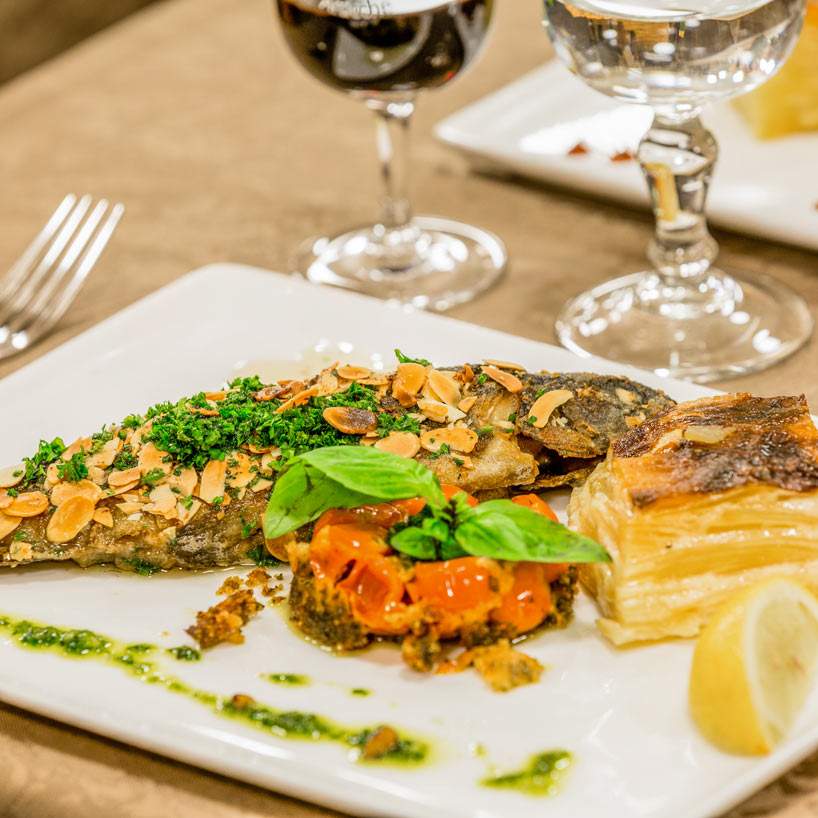 On the menu: taste and flavours from the Ardèche
During your stay at Domaine Les Ranchisses, let yourself be seduced by the gourmet menu of L'Auberge, the restaurant of our Ardèche camping.
If you are unfamiliar with the cuisine of the region, this is an ideal opportunity to discover the specialities of the Ardèche: caillette, confit lamb mouse from the Ardèche, trout meunière with almonds, but also the "specialities of the Ranchisses" such as frog legs with parsley and duck breast.
Cooked with fresh products, our leader concocts homemade desserts every day according to the season. Don't hesitate to come and have lunch with your family at L'Auberge des Ranchisses, restaurant Ardèche. Treat yourself!
For dinners in a hurry, but no less gourmet, stop by the Brasérade area of the Auberge. Around a unique menu of skewers, you cook your own pieces of meat on the grill in the middle of the table. Accompanied by chips, these grills will delight young and old alike!
For the pleasure of children
To make the most of your holiday at Domaine Les Ranchisses, we have set up a playground opposite our Largentière restaurant. Once they have finished their meal, your children can have fun in front of you and in complete safety.
This way, you can take the time to finish your meal in peace and quiet and maybe have some more dessert.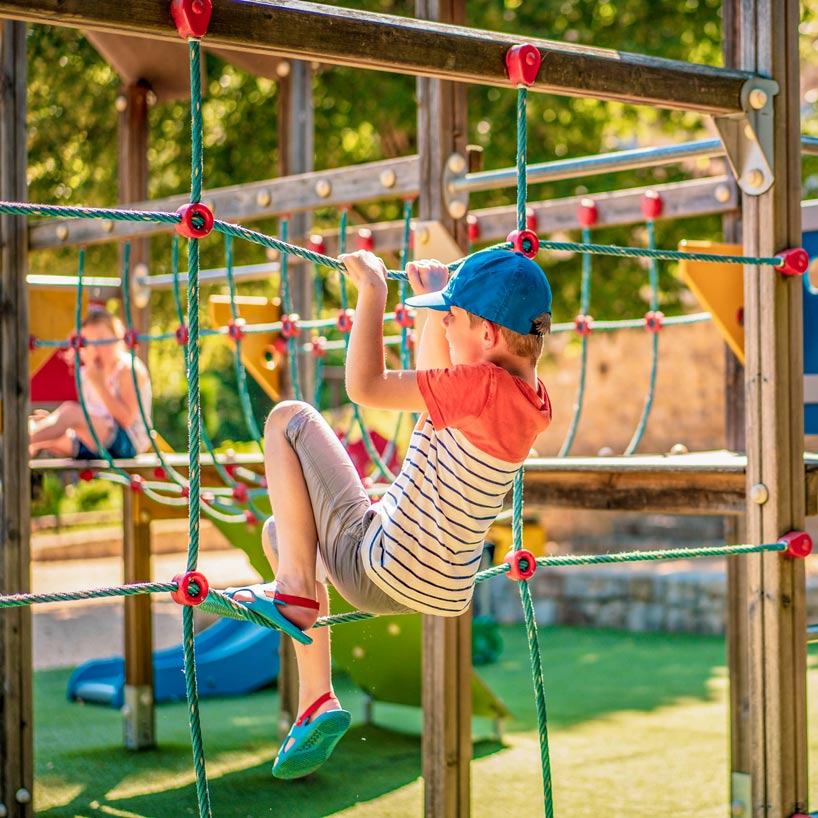 geographical location and practical information
Nearest place of arrival:
A7 motorway exit
Montelimar South
Montelimar North
Loriol
1 hour transfer time
Montelimar station
1 hour transfer time