The bars
The bar in Ardèche
Find the best spot to sip your cocktail at sunset, have your espresso at the counter, enjoy breakfast on the terrace or drink your smoothie after doing your laps.
Within the Domaine, the bar facing the pools is full of services, and with its shaded or sunny terraces, you can relax and enjoy the moment.
In the evening, the bar can be transformed into a trendy bar to listen to live music or to discover a magic show. During the day, it is the live broadcasting of football matches, rugby matches, bicycle races and other sporting events on a big screen that makes the fans' hearts beat faster.
As for the drinks menu, our bartenders will be able to offer you something to satisfy all your desires: with several draught beers, a gourmet ice-cream parlour, and why not let yourself be tempted by one of the cocktails from our top of the best cocktails at the Ranchisses bar: traditional mojito, red fruit mojito, spritz, margarita and the Ranchisses special…
Break at the guinguette
Ephemeral bars are also an opportunity to discover other places: do you know the guinguette des Ranchisses? The bar there is home to its regulars: inveterate petanque players and elegant lawn bowlers (a sport straight from Britain).
Here, on the banks of the river and in an old stone atmosphere, the barman offers you an authentic menu with traditional aperitifs, suze, pastis, glass of local wine, syrups, coca and other soft drinks… and sorbet and ice cream. A perfect accompaniment to a game of pétanque with friends or an official lawn-bowl tournament.
In the camping's bars there is also the new design bar of La Coupole, the new indoor swimming pool of Les Ranchisses, which proposes a menu of healthy and greedy drinks to be savoured in a relaxing and aquatic universe where one can admire a panorama on the river side and a sumptuous indoor swimming pool bathed in light thanks to an incredible glass and metal structure. Of course, all our bars are kid-friendly, where you can meet up with your loved ones or friends for a game of board games on a bad weather night.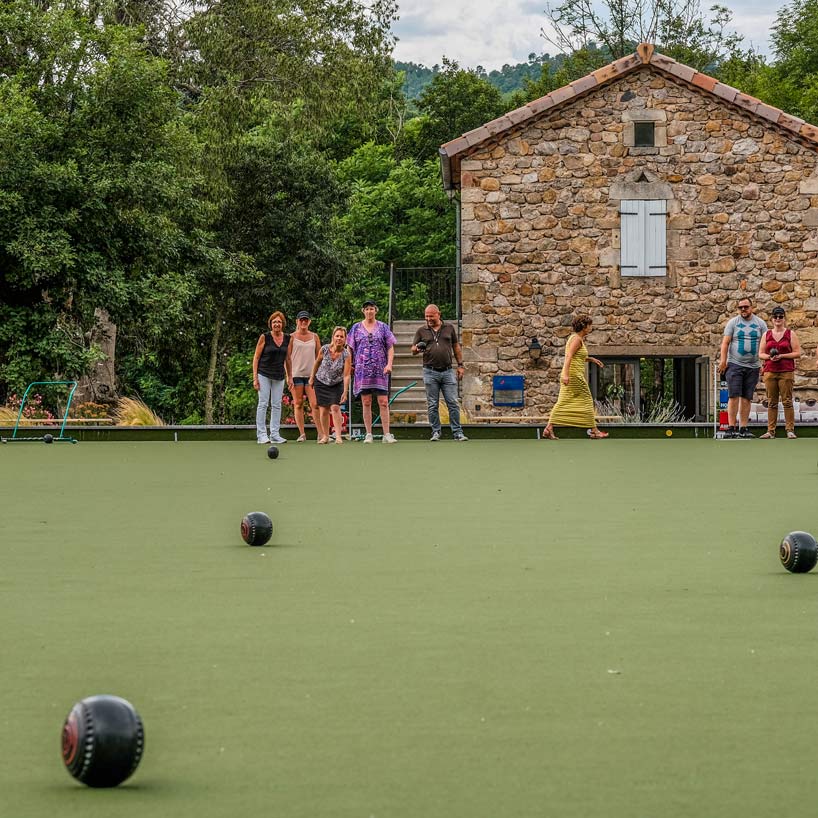 THE BAR AT THE INDOOR POOL
Enjoy a sweet or savoury break in the bubble lagoon. The bar adjoining the indoor swimming pool offers two atmospheres: one indoors to sip your hot drink on a cloudy day and a large terrace overlooking the river to take full advantage of the sun and taste the Ardèche ice cream. Open every day from 10 am to 6 pm.