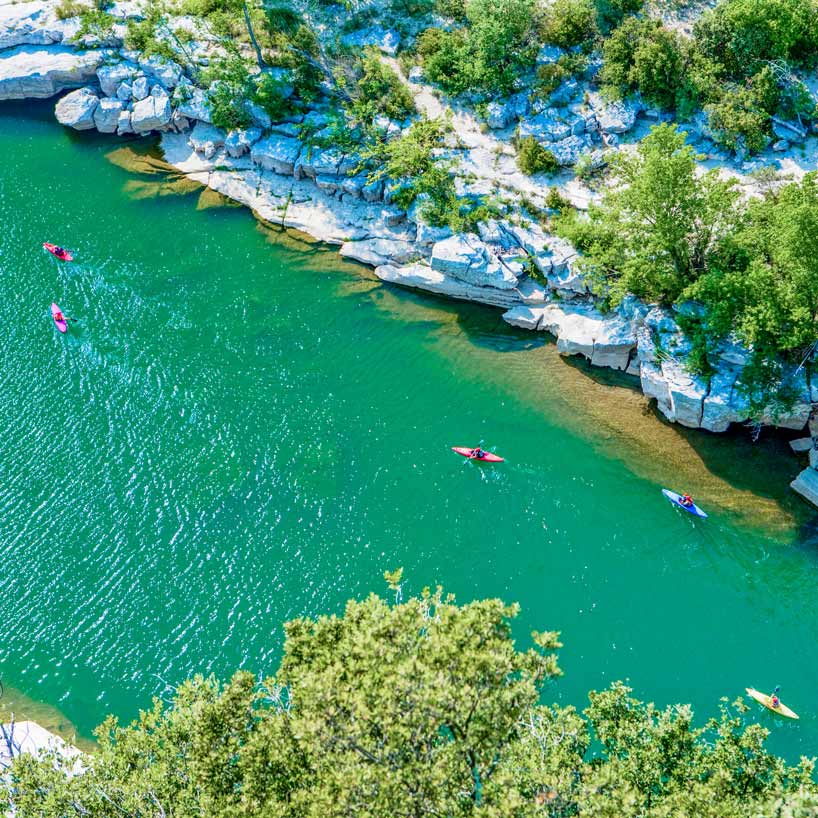 Riverfront
Would you like to spend your next holiday in a riverside cottage in the Ardèche? Put your bags down at the Domaine des Ranchisses in one of our Ardèche cottages for a relaxing stay by the river.
Enjoy the benefits of a riverside cottage in the Ardèche for your holidays
Just 350 metres from the river, you will find the Ranchisses farmhouses, which are set in a green, 100% natural environment. It is an ideal setting for a relaxing family holiday. Calm and peaceful, your stay in a cottage in the Ardèche on the banks of the river is thus conducive to a most serene stay, the ideal place to relax and recharge your batteries.

But it is also a perfect setting for a variety of water sports. The river is indeed a privileged place for swimming, but also for fishing with the family and children or with friends. It also offers white water suitable for sports such as canoeing and rafting. Enjoy a wide range of activities in the clear waters of the river and on its banks, close to your cottage with spa in the Ardèche.
Book your comfortable cottage on the river bank in Chassiers
Choose for your holidays a luxury stay in a large authentic stone house. You will find three farmhouses with quality equipment for a comfortable stay such as a private swimming pool, a terrace with garden furniture or a modern and functional American kitchen. As a couple, discover the 104 m² of the Maison d'Hermine, which has 2 bedrooms, a beautiful veranda, a shower room and a separate toilet.
Are you looking for a cottage in the Ardèche by the river to accommodate your very large family? The 240 m² Mas de Jeanne can be combined with the adjoining Maison d'Hermine. It can accommodate up to 18 holidaymakers and has 3 double bedrooms, 1 bedroom for 4 people, 2 dormitories and 5 shower rooms. A third cottage, the Mas d'Alice, covers an area of 340 m² and can easily accommodate large groups of friends or families. It also has 6 sleeping areas and 5 shower rooms and toilets.