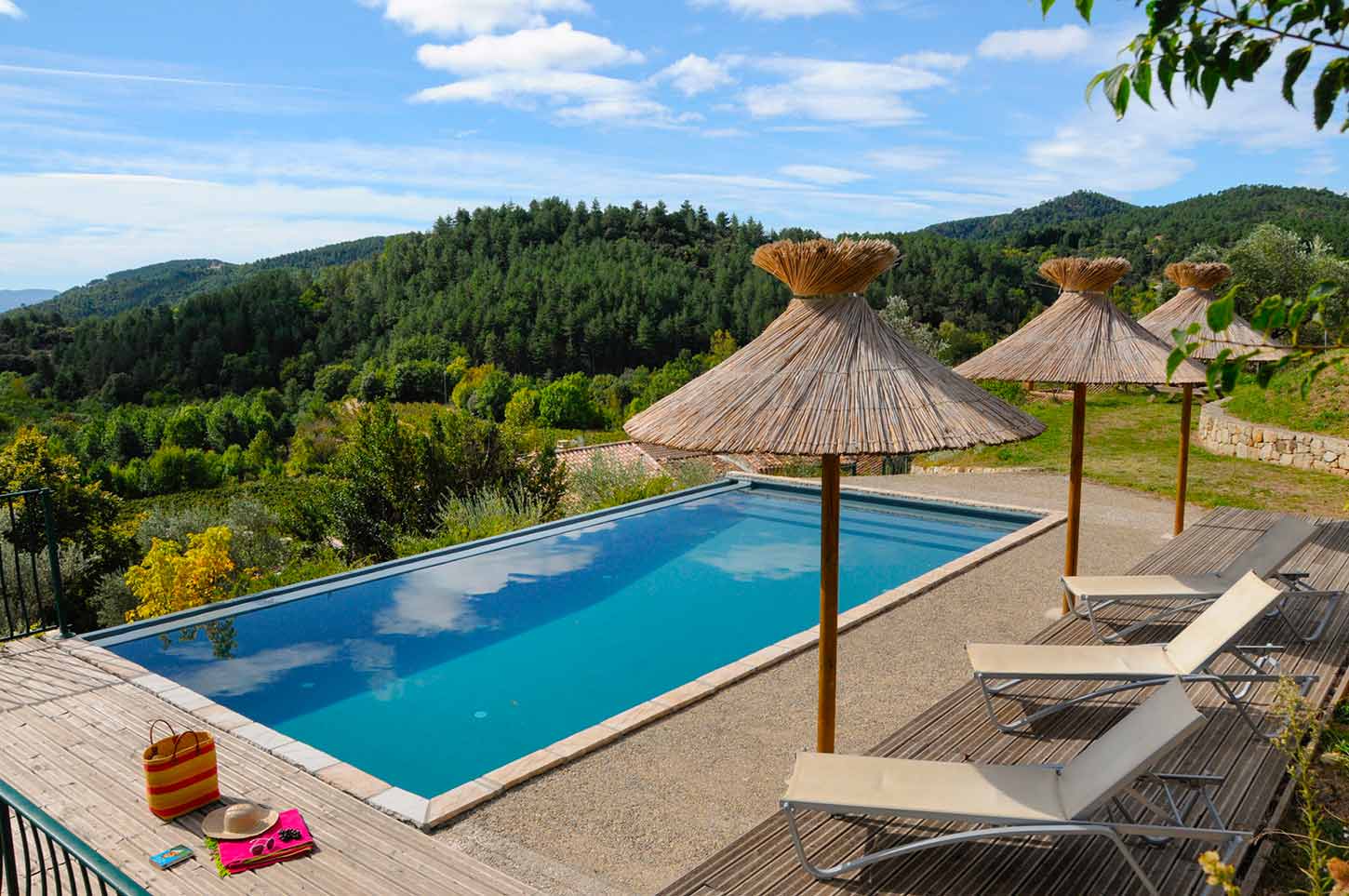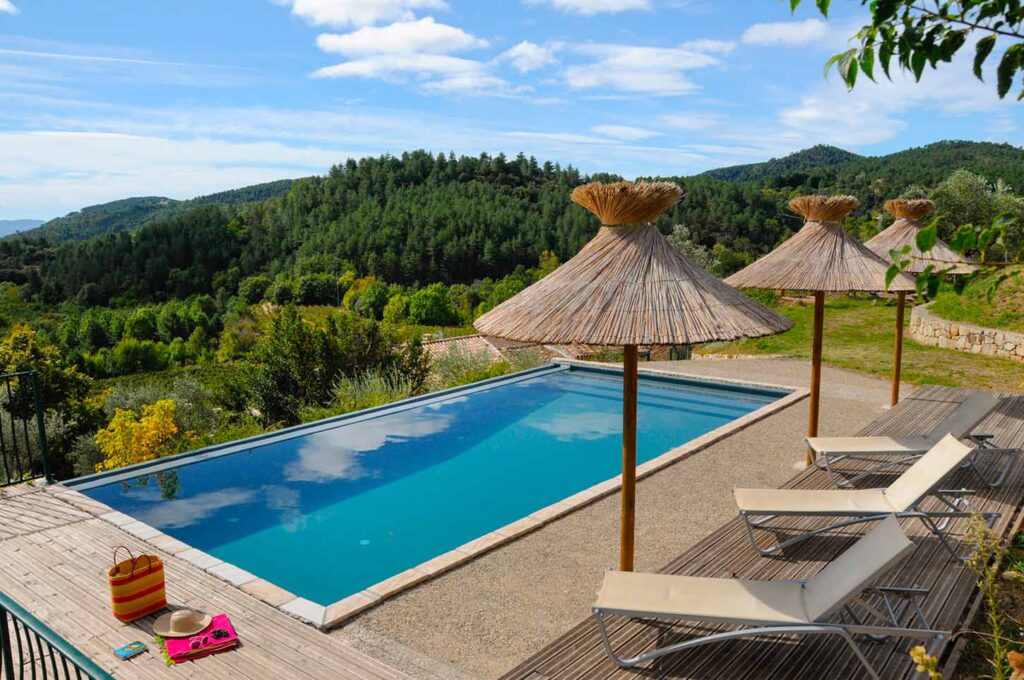 Cottage ARDECHE WITH POOL
3 cottages in the Ardèche with swimming pool
The 5-star Domaine des Ranchisses offers three prestigious cottages with pool in the Ardèche, built of local stone, sublimely restored and situated on a terrace above the valley overlooking the Monts d'Ardèche. Ideal for a relaxing and charming stay in the Ardèche, they feature two exceptional swimming pools in breathtaking surroundings.
Le Mas d'Alice has its own private swimming pool on the terrace, from which the valley is completely overlooked. La Maison d'Hermine and Le Mas de Jeanne share a second pool, which is exclusively reserved for them. It also offers an unobstructed view of the sublime landscape of the Ardèche mountains.
Bordered by a few very comfortable deckchairs and small straw huts to shade you, it is an oasis of freshness in a green and mineral setting. Everything has been designed to integrate the ponds into the natural landscape and the authentic setting of the hamlet with its old houses.
The edge of the pool is made of natural stone, its lines are simple, its contours are planted and furnished with wood. The Mas d'Alice's private swimming pool plays on plants and comfort with a grassy beach and a swan neck to offer you a relaxing hydromassage.
Discover the cottages
To enjoy a holiday with family or friends under the Ardèche sun
The Ardèche is a region prized for its sunshine and mild climate, which is ideal for relaxing and living outdoors from the first days of spring. In the absolute calm of a hamlet overlooking the valley, between hundred-year-old lime trees, chestnut groves and terraced gardens, what a pleasure it is to dive into your swimming pool whenever you feel like it!
At any time of the day, as soon as you wake up, during a relaxing afternoon at the cottage, or when you return from your excursions in the Ardèche, the clear water of the pools and the comfort of their deckchairs are waiting for you. With a private swimming pool, there are no timetables to keep, and no fear of crowded places: enjoy swimming in complete privacy and freedom.
Water sports are an essential part of a stay in the Ardèche At Les Ranchisses, it will be your swimming pool for relaxation and games with family or friends, the river for white water sports, swimming in the fresh water and canoeing, but also the spa, with its whirlpool baths, jet showers, ice fountain or hammam.
Enjoy the water in all its forms and recharge your batteries during your stay in a cottage in the Ardèche!