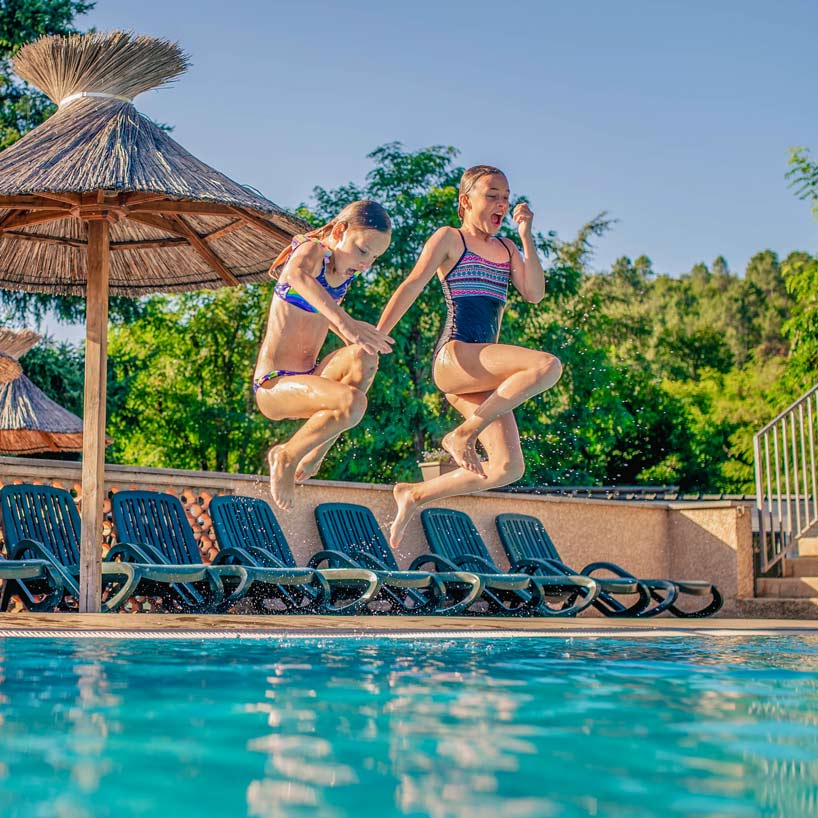 The water park
The water park of a 5-star camping in the Ardèche
Enjoy swimming during your stay at our Ardèche camping with water park!
We have created 3 large areas entirely dedicated to water activities, for young and old alike: a heated paddling pool of more than 1,000 m² with a slide, 2 outdoor pools, a Jacuzzi as well as 3 Pentagliss slides to entertain the whole family!
The joy of swimming in the South Ardèche
In addition to our aquatic facilities, we offer you aquatic activities throughout your stay at our Ardèche piscine camping.
Sports enthusiasts will be delighted as we regularly organise water polo and water volleyball tournaments as well as aquagym classes led by our professional team.
Relaxing at the water's edge or taking part in water activities, all you have to do is choose your water activities at our camping in the Ardèche with swimming pool!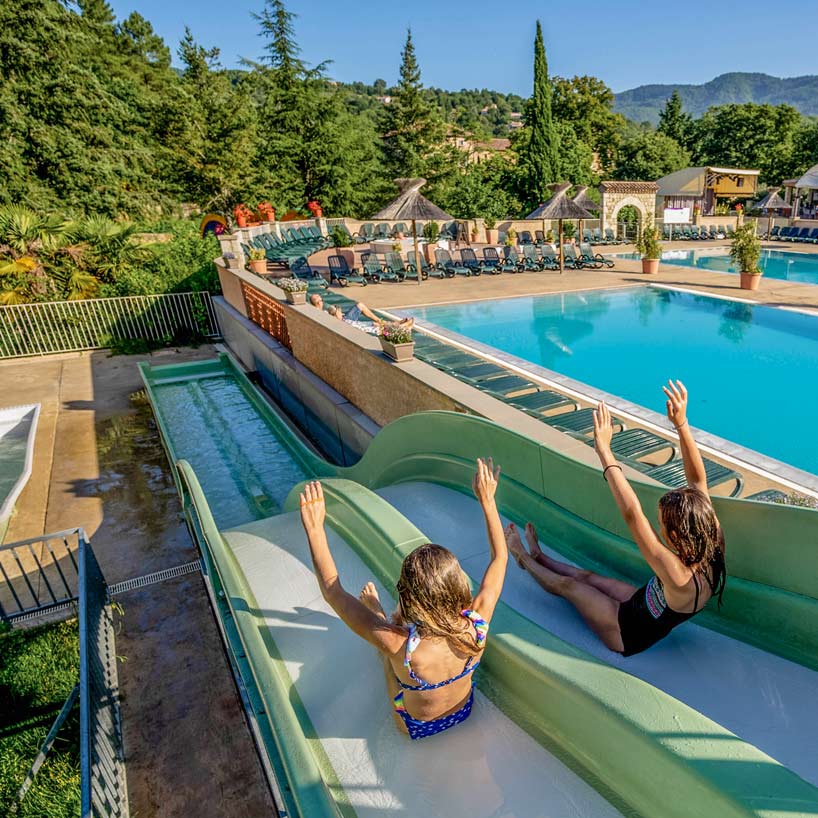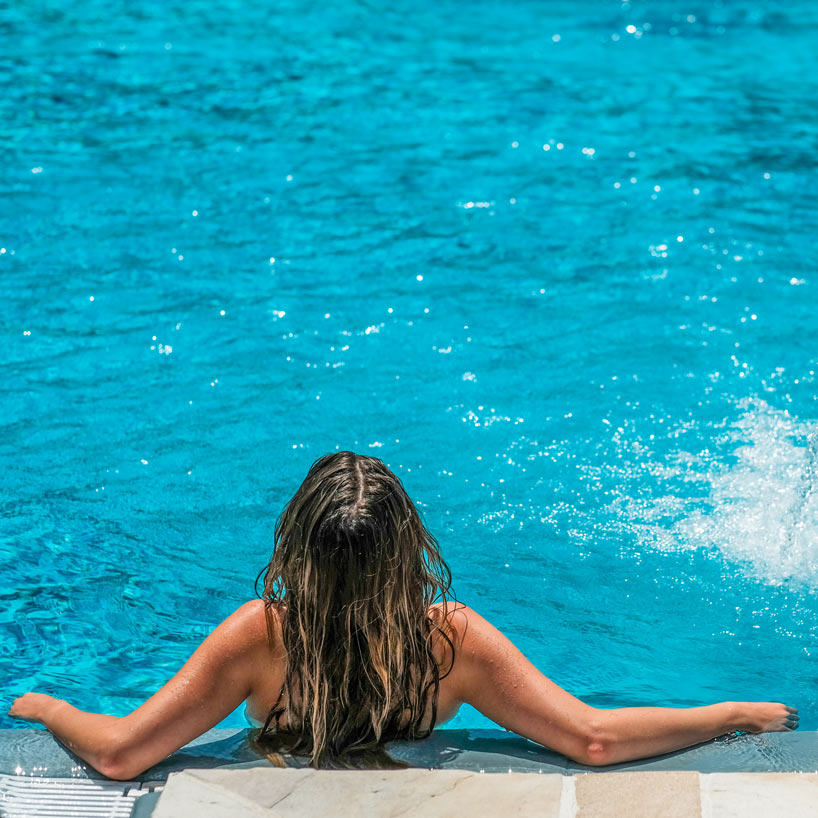 When pleasure rhymes with relaxation
Relaxation: adults can relax in our balneotherapy and fitness area, entirely dedicated to your well-being!
You will find a fitness area with weight training and cardio-training equipment as well as an aquatic area consisting of a semi-covered swimming pool with bubble benches, whirlpools, a jacuzzi, a sauna, a hammam and jet showers. We also offer Aquabike lessons, for a fee of 3€ for 30 minutes of exercise.
The wellness area is reserved for people over 18 years old. Access is free.
A stay with your feet in the water in the Ardèche
During your holidays at our Ardèche swimming pool camping, come and discover the Ligne, a tributary of the Ardèche which flows below our estate. Take the opportunity to take out your landing net and who knows, catch a few small fish to grill for lunch.
Canoeists can train on the lake before tackling the famous Ardèche gorges, renowned for the beauty of their landscape. Don't forget, we also have an Ardèche cottage with swimming pool.
Enjoy all the aquatic pleasures of our establishment in Largentière while remaining close to Vallon Pont d'Arc, Ruoms, Aubenas, near the Monts d'Ardèche regional natural park.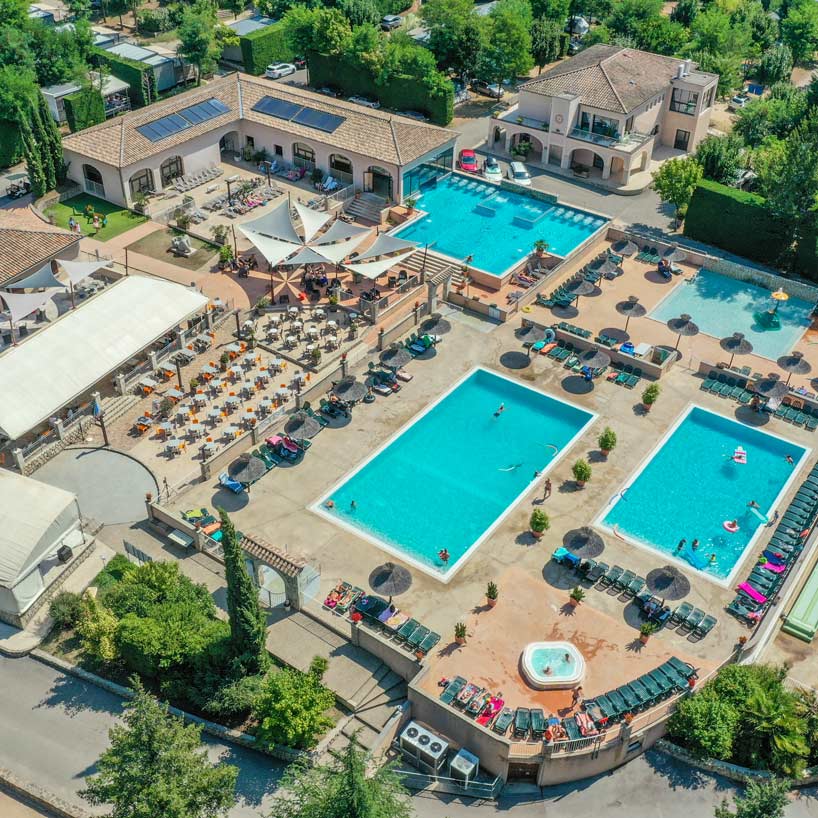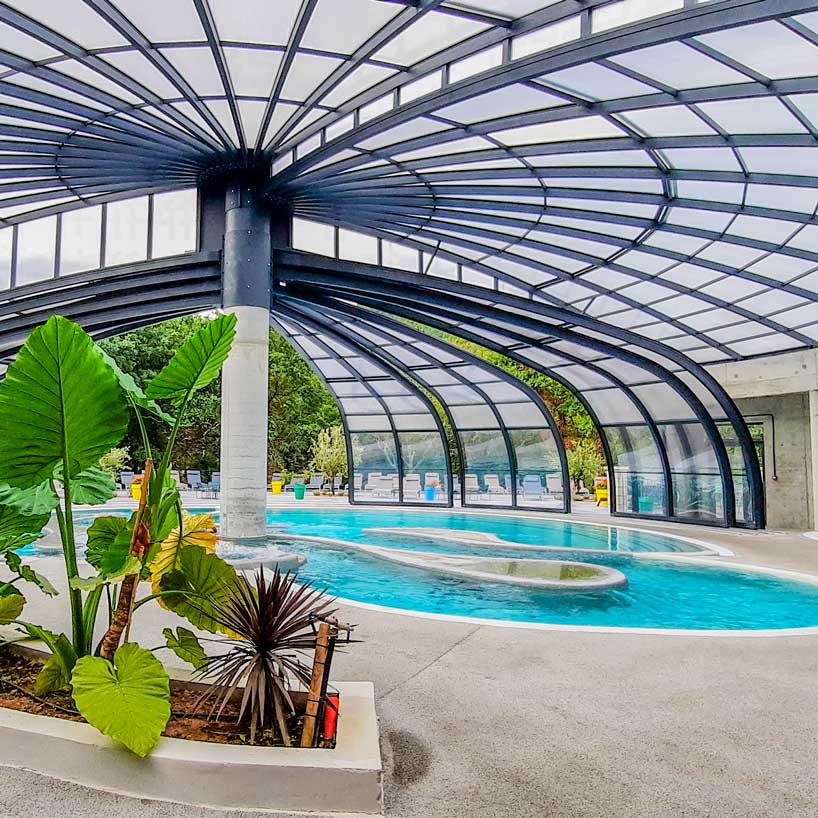 Indoor swimming pools
The indoor pools, 25-meter swimming lanes, children's pools and heated outdoor pools are within walking distance of the residences.
In good or bad weather.
The joy of swimming or lounging by the pool, lounging on a deckchair.
Water games with a slide, diving into the big bath, discovering the pleasures of water for the little ones.
Soothing and fresh universe.
Vegetated.
Open all week.
The indoor pool is an exceptional lagoon covered by a glass bubble, a technical and visual feat. Guests at the Domaine can relax on the outdoor terrace overlooking the river below, or sip a fresh fruit juice at the indoor pool bar, a steel and blue counter in perfect harmony with the setting.
The more active ones will certainly feel like swimming in the semi-Olympic pool (25 m. long), while everyone, young and old, will venture into the lagoon with currents and whirlpools for relaxation and water pleasure in all seasons.
On the practical side, all the pools are heated for comfort in all seasons and particularly when the weather is capricious. Showers and toilets are available alongside large changing rooms and lockers (€1 deposit) for total comfort.