The gorges de l'Ardèche
32km long gorges shaped by nature
Located in the south of the department, the gorges de l'Ardèche shape the landscape over 32 kilometres long, between Vallon Pont d'Arc and Saint Martin d'Ardèche. These are part of a 1,575 hectare nature reserve which is home to more than a thousand plant and animal species: a real pleasure for adventurers!
To discover this unspoilt nature, located just a stone's throw from Les Ranchisses, there's nothing like the many signposted paths or a superb canoe trip. You can also take the panoramic road by car, lined with lookouts, which is the ideal viewpoint for souvenir photos.
Walks and hikes in the gorges de l'Ardèche
Among the most beautiful hikes in the gorges de l'Ardèche, consider the walk starting from Labastide-de-Virac, more precisely at the hamlet of Les Crottes, which takes you through and contemplates cirques, cliffs, small caves and rapids, alternating with sand and pebble beaches. Recommended for experienced walkers, it is 12 km long and takes 4 hours and 40 minutes. If you prefer to take the water route, many canoes and kayaks are available for hire and allow you to go down the Ardèche for half a day or even two days if you want to do a real sports trip during your holiday in camping Gorges de l'Ardèche.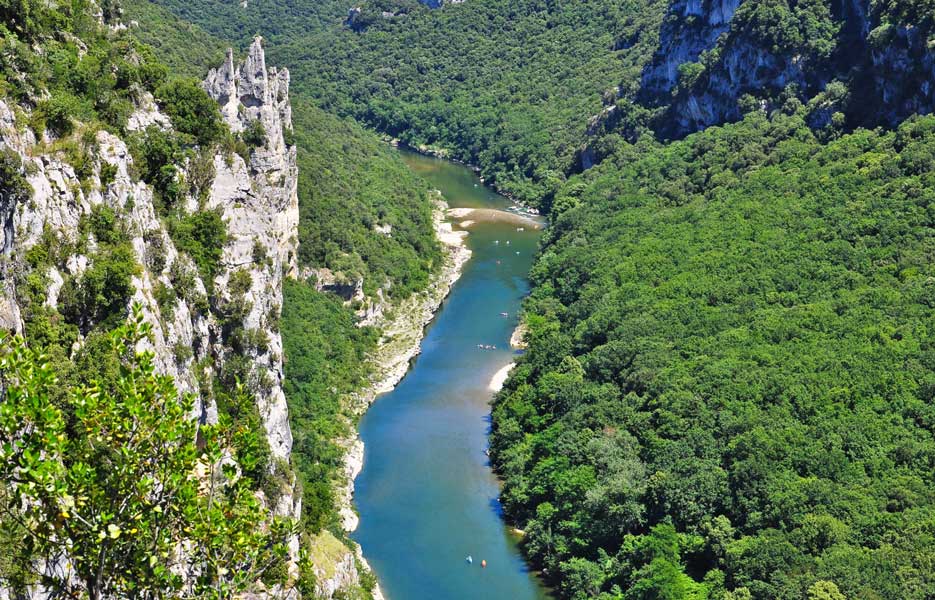 PRACTICAL INFORMATION
If you decide to do the canoe trip over 2 days, don't forget to book a pitch in one of the two bivouac areas located in the heart of the National Nature Reserve of the gorges de l'Ardèche.