Visit Vogüé
Vogüé, ranked among the most beautiful villages in France
Embedded in the luminous limestone of the cliff, the charming village of Vogüé is built in an arc and offers an incredible view of the Ardèche river flowing below. This unusual town is home to many old houses, most of which date back to the Middle Ages. Standing majestically in the heart of Vogüé, the fully restored medieval castle welcomes the curious, who can only fall under the spell of this fortress with its 4 corner towers!
The hanging gardens of Vogué
We advise you to finish by visiting the hanging gardens to discover the exceptional panorama of the Ardèche Mountains during your holiday in a gite in Vogue or camping in Vogue. The gardens are also known as the "marquise gardens" and are located on a limestone plateau next to the castle. They add a touch of greenery to the castle and provide pleasant shade to its façade. Small trimmed hedges, a well-kept lawn and trees decorate the walls and nicely frame the plunging street from the terrace. Also worth visiting inside the castle is the dungeon, accessible from the guard room, which itself serves as an exhibition room for various contemporary works.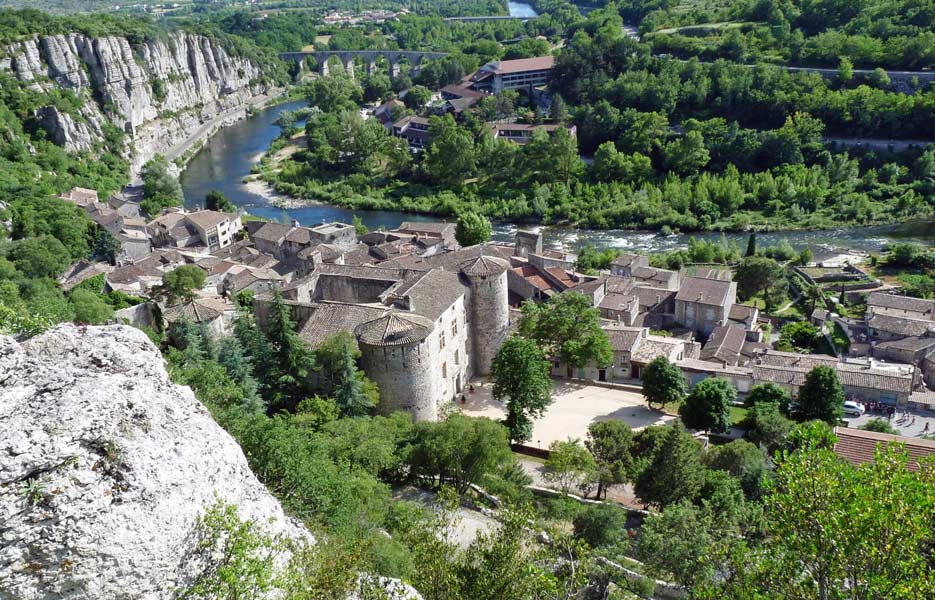 PRACTICAL INFORMATION
Most of the tourist sites in Vogüé are located along a marked and numbered path that crosses the village. More information at the tourist office.