The Pont d'Arc
the Pont d'Arc, a monumental arch unique in the world
There are many wonders in the world shaped by nature over time since the creation of our planet. Just a stone's throw from the Ardèche Gorges, the Pont d'Arc is undoubtedly one of them. It took several millennia for the river to carve out the rock and create this natural arch, 60 metres high and 30 metres wide, which has become one of the must-see tourist attractions in the Ardèche.
A geological treasure with a unique landscape, the Pont d'Arc site was listed in 1982 and the Chauvet cave was included in the heritage protection zone in 2013. You can visit this magical place by canoe, hiking, and even swimming in the river during your stay in a Vallon Pont d'Arc gîte or by camping Vallon Pont d'Arc.
A place visited by millions of people every year in Vallon Pont d'Arc
This site is one of the top 5 most photographed natural phenomena in France and is visited by 1.5 million people every year.
The legend of its birth is also worth a visit: it is said that the Pont d'Arc was created by God who split the mountain in two to cut off the retreat of the wife of a lord of Sampzon and the devil disguised as a pilgrim with whom she had run away, the current thus created bringing the boat back to the estate.
Today, it is still possible to swim under the bridge, but this time without fear of evil reprisals!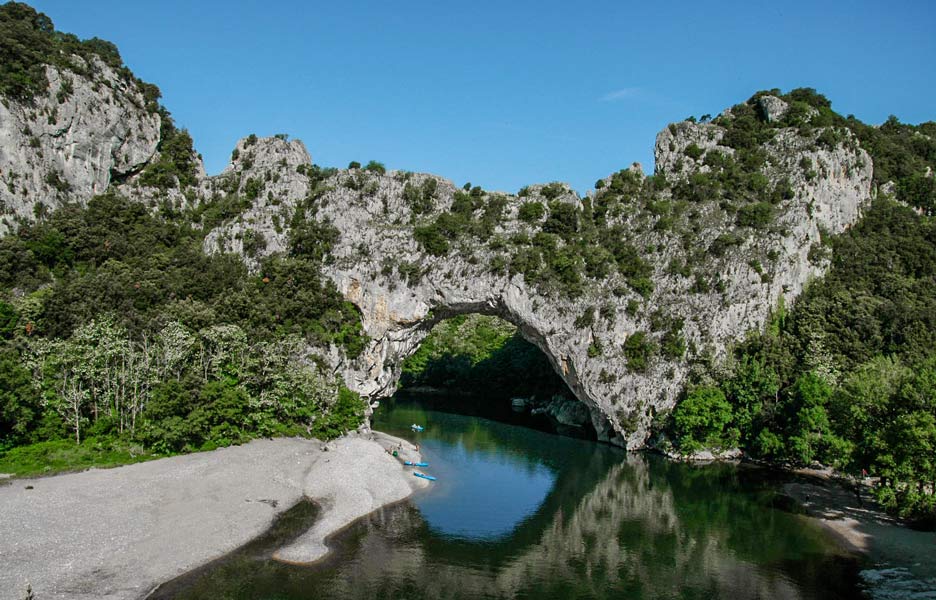 PRACTICAL INFORMATION
To visit this exceptional site while respecting its fragile ecosystem, don't hesitate to ask the certified instructors of the Syndicat Mixte de Gestion des Gorges de l'Ardèche.